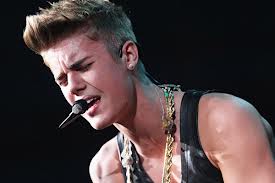 When Justin Bieber went out to celebrate his 19th birthday he no doubt anticipated that he would be photographed but chances are he hadn't expected the paparazzi getting photos of him stumbling home with his pants around his ankles.  Bieber's birthday binge even prompted Joey Barton to post on Twitter that Bieber is a 'smack addiction waiting to happen'.  If Barton is right, Bieber wouldn't be the first child star to fall victim to drugs and alcohol addiction.
The pressure put on any celebrity can be enormous.  From the stress of building, promoting and maintaining a successful career to the non stop spotlight attention and almost complete lack of privacy, there's very little 'down-time' for celebrities.  While this can be difficult for adults to handle, it often proves to be simply too much for any child star to deal with.  As a result, there are plenty of stories about child stars who began with so much promise, only to wind up shackled with addiction.
Drew Barrymore has perhaps become on of the most well known child-star addicts, as well as  becoming a poster child for recovery.  Her meteoric rise to fame in the 1980s movie ET made her an overnight sensation and placed her right in the middle of the glaring public spotlight.  Her first stab at rehab came at the tender age of 13 with a second attempt at 14.  Over the years she has struggled publicly with addiction and has become an advocate for other child stars.  Although she is now clean, sober and well adjusted, she knows better than anyone that it's not an easy road.
Other child stars who have struggled with addiction have not been as fortunate.  Corey Haim was a teenage heartthrob in scores of 80s movies and eventually chalked up 18 different admissions to rehab facilities and programs.  When he died of pulmonary edema in 2010 the authorities not only found prescription painkillers in his home, but also evidence that he had been 'doctor shopping', an attempt to find a doctor who would continue to prescribe him powerful painkillers such as Oxycontin.
Britney Spears and Lindsey Lohan are the two more current examples of former child stars who now make headlines thanks to their own struggles with addiction.  Could Justin Bieber be headed down that same path?  Some say his recent erratic behaviour and episodes of binge drinking are red flags signalling that if he doesn't get help soon he'll end up being yet another tragic footnote in celebrity history.  But there's still hope.  Rehab now includes both in-patient and out-patient options as well as continuing support once the program is done.  If Justin Bieber takes the time to examine his own behaviour, he will have a chance to save not only his career but also himself from the Curse of Child Stars.