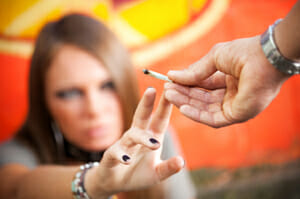 Substance abuse is something that affects many people around the world at some point in their lives; often, this can lead to addiction. Once an individual starts to abuse a substance such as drugs or alcohol, it can be extremely challenging to give it up. In many cases, the person will continue to do so until a loved one notices it. But it could already be too late by then as substance abuse can destroy families, and relationships with friends and colleagues. Loved ones will often not know how to deal with an addicted friend or family member and will react in the only way they see possible – by cutting the person off completely. Avril Fearn from Dundee knows the effects of substance abuse and how it can ruin an individual's life; which is why she has chosen to speak out about it, despite the stigma surrounding addiction.
Cost Me Everything
Thirty-seven-year-old Avril said, "Heroin very nearly cost me everything – my life, my children, my home, my dignity and my self-respect."
She began abusing the drug at the age of 29 to 'numb the pain'; before long she was on a downward spiral of depression and substance abuse.
Her severe addiction resulted in her sleeping rough on Glasgow's streets. At one point, she overdosed and says she 'lost' five days of her life due to a drug-induced coma. Now Avril is free of drugs and aspires to become a mentor to others who are in the same position as she was. She said, "If telling my story stops even one person from using heroin, it will have been worth it."
Speaking about the speculations around legalising drugs and 'shooting galleries', she made her feelings very clear, "Absolutely no to both. It just wouldn't work. Heroin is pure evil."
Difficult Childhood
Avril insists that her years of substance abuse had stemmed from a difficult childhood where she was in and out of care, frequently drinking alcohol, skipping school and then getting pregnant at fifteen. She explained, "Basically, I did all the usual teenage rebellious stuff, but I never took drugs."
She went on to have three more children and enrolled herself into a local college to take a social health course; she felt better than ever and was sure she had managed to successfully change her life and her children's lives. However, a tragic house fire ruined her family home and left the family with nothing but the clothes on their backs – this was enough to send Avril into a drug-fuelled rage that turned into an addiction.
Seriously Struggling
She said, "Everything was going horribly wrong, and I just couldn't cope. After the fire, the children and I were in homeless accommodation, and I was seriously struggling."
It was then that she was introduced to heroin for the first time in her life. "They told me it would numb the pain. Well, maybe it did for a brief moment, but ultimately it made everything so very much worse and led to my life spiralling completely out of control. My children were taken away, and I moved to Glasgow where I slept rough for a month. I was unrecognisable as the person I used to be. I was a disgusting mess."
No Going Back
After a nearly fatal overdose, Avril found herself in Ninewells Hospital, Dundee. She discharged herself before she had fully recovered and did not realise what had actually happened to her for a further five days. "I have no idea where I was or what I was doing during that time," she said.
She knew then that she had to make a change for the sake of her young children and that she had to get her life back. She said, "It's been a hard battle but I've been clean for four years, not even using methadone and that's how I'm going to stay – there's no going back. I've got my children back in my life and three beautiful granddaughters. More than anything now I want to help others."
Her sixteen-year-old son Damien Rigden said, "We're so proud of mum and how she's turned her life around."
Personal Experience
Like Avril, there are millions of people around the world who will turn to substance abuse when things get tough, using it as a way to cope; however, this is never the answer. If you are concerned that a loved one may be abusing substances to the point that it is becoming an addiction, then contact us here at UK Rehab. We work alongside many clinics throughout the UK that offer a range of effective treatments to help the affected individual overcome his or her addiction once and for all.
Treatment for Drug Addiction Is Available
Treatments at any of the clinics we work with can be tailored to suit the specific requirements of the individual, which makes the whole experience much more personal. All centres are designed so that they are comfortable and allow the guest to feel relaxed; there is nothing worse than feeling extremely nervous or frightened about treatment. If you have any queries or would like further information regarding any of the clinics we work with or the treatments they provide, do not hesitate to contact us here at UK Rehab.
Source: 'If my story helps stop one person using heroin then it's been worth it', says Dundee gran  (The Evening Telegraph)