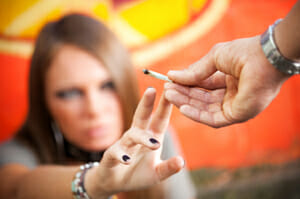 Drug addiction is a devastating illness affecting many people all over the UK. Illegal drugs such as heroin and cannabis are often abused, but many individuals also abuse prescription medications. However, one drug that is considered to be highly addictive is cocaine. The effects of this illegal drug include euphoria, alertness, confidence, and high energy.
Cocaine is a powerful drug, but the effects do not last very long. For that reason, many users will take further doses to prolong the 'high'. One of the biggest problems with cocaine is the fact that it can make users feel over-confident and could lead to them taking unnecessary risks. It can also cause paranoia and aggression and can lead to violent episodes for some users.
Addiction
Cocaine addicts experience intense cravings for the drug and typically cannot control the urge to take it. Former judo champion Lisa McGhee is struggling with a cocaine addiction that has made headlines in recent days. The thirty-year-old was caught on camera on an Edinburgh bus smoking crack cocaine.
A close friend of Lisa said that she is 'deeply ashamed', and added, "Lisa is horrified at what she has done, and she is so low. She'd been clean for three days. That's why she smoked the crack straight away. She couldn't wait. If anything, it was a cry for help."
Shock
Lisa was photographed smoking the illegal drug on the top of a bus in Edinburgh's Princes Street by a shocked passenger. The teenage boy then put the photograph on Facebook where users posted comments about the incident before Lisa was identified.
Lisa's friend said, "I can't condone her actions and she is ashamed, but people should think before they post comments such as 'junkie' and 'scum'. Lisa has a kind heart and would do anything for anyone. She's had so many obstacles to overcome, and she urgently needs help."
A Life Destroyed
Lisa had her whole life ahead of her before she was introduced to heroin at the age of fifteen by her eighteen-year-old boyfriend. She had already trained with the British judo squad in Barcelona and was expected to be a part of the Scottish team at the 2002 Commonwealth Games.
Before she had even turned sixteen, Lisa had a heroin addiction and was taking methadone. A friend said that Lisa was always 'very easily led' and craved love and attention, probably as a result of her parent's split while she was still in primary school.
Despite taking methadone to beat her addiction, Lisa continued to take the drug and began shoplifting to fund her habit. She gave birth to a baby boy in 2008, and her family hoped this could be the catalyst to turn her life around, but it did not happen that way.
However, in 2013, Lisa managed to get clean. She moved to Birmingham and stayed off drugs for two years before being subjected to a terrifying attack by a former boyfriend in October 2015. Her friend said, "He held her hostage for three days. Her face was slashed, and her front teeth were knocked out. She only escaped by jumping out of a window."
Since moving back to Scotland after the attack, Lisa has relapsed and has started shoplifting again to raise cash for drugs. Her friend said she is trying to get help but has been unsuccessful so far.
Addiction Help
Lisa's story is a tragic tale of a life destroyed by drugs. If this is something you can relate to, call us here at Rehab Helper. Whether you are calling for yourself or on behalf of someone you love, our team of fully trained staff can provide the advice and help you need to overcome your situation. Call today for more information on how we can help.
Sources: