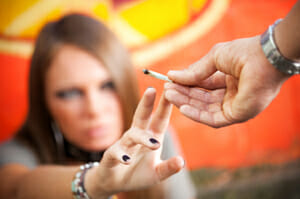 Many teenagers and young people experiment with alcohol and drugs such as cannabis. While most will not have any problems, some will continue to smoke cannabis and may even develop addictions.
Those who develop a cannabis addiction find that their life becomes consumed by their need for the drug. It can take over their lives to the extent that when they are not using, they are thinking about using.
One of the biggest problems with a cannabis addiction is that, as with all other addictions, it happens gradually and progresses over time. It can lead to other drugs or alcohol abuse, and those who try to quit may find it extremely difficult. Many addicts will promise themselves that they are going to quit but when they try, they find they simply cannot.
Why Do Teenagers Choose Cannabis?
When children reach a certain age, they tend to want to experiment with drugs and alcohol. Many people believe that cannabis is okay to take, as it is a class B drug. Peer pressure is often one of the biggest reasons why teenagers decide to take drugs. Boredom and curiosity are other common reasons. Cannabis tends to be readily available and cheap, and those who deal in it will target vulnerable teenagers in order to make their money.
A recent raid on a house in Grimsby found that there were enough cannabis plants inside to allow dealers to produce supplies for up to six and a half years. Three men had set up a cannabis factory, growing it in the dining room and bedrooms. Matthew Bennett, Gary Lazenby, and Michael West admitted that they had produced 2.43 kg of cannabis with intent to supply.
As well as the cannabis plants, police found seedlings, lighting, fans and cash. Police said the potential yield from street deals was £13,880. Mobile phone evidence showed that the cannabis produced had been sold to others.
Stupidity
Bennett's defence lawyer, David Godfrey, said his client had become involved with the drug production 'out of stupidity'. He said, "He is not the Mr Big of this operation. He is a cog. He is not the brains of this operation. He is a pawn – an active pawn."
The property used to grow the cannabis belonged to Bennett, who was a heavy cannabis smoker and had a previous conviction for cannabis possession.
Bennet, along with West, was given an eighteen-month jail sentence, while Lazenby was sentenced to one year behind bars.
The Consequences of Cannabis Addiction
Those who smoke cannabis may feel relaxed and happy, and some will experience fits of laughter. However, some people do not experience the relaxed and happy feelings. Instead, they will feel lethargic and sleepy and may even feel sick. Cannabis can affect memory so those who regularly smoke it may suffer when trying to remember things.
Some users may experience feelings of paranoia, anxiety, or confusion, and others will suffer from panic attacks or hallucinations.
Long-term use of cannabis can cause insomnia, irritability, mood swings, and mental health problems such as psychosis or schizophrenia.
Help is Available
If you or a loved one is suffering from a cannabis addiction, help is available. Rehab Helper has a team of experienced advisors, therapists, and counsellors who are on hand to listen to your problems. They will offer advice and support as well as information on the treatments available to you in your area.
For more information on how Rehab Helper can assist you at this tough time, call our experts today.
Source:
http://www.grimsbytelegraph.co.uk/Cannabis-factory-yield-694-deals/story-27586730-detail/story.html