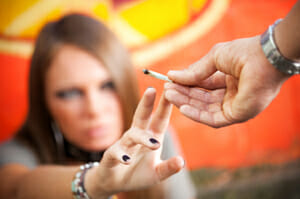 The Magistrates' Association has warned that drug dealers selling cannabis outside schools are getting away with only a caution from police. These dealers are not facing court but are instead receiving either a fixed penalty notice, community resolution, or a simple caution. These revelations will no doubt cause the public to wonder if the justice system is 'broken', according to the chairperson of the Magistrates' Association, Mr Richard Monkhouse. He also said that there was evidence showing that almost 35 per cent of out-of-court disposals were not being administered properly.
Cannabis Warnings
Monkhouse said that there is a real fear that the police force's desire to settle certain cases in a timely manner was not addressing the need to change the ways of the criminal. He gave the cannabis warning as an example. This is a warning given to those found with a small amount of the drug. However, the idea behind the warning is that it should be given to those who are found in possession of the drug with clear evidence that it is for personal use; i.e. they are found in possession of a spliff. It is not right for these warnings to be given to those who are found outside schools with small amounts of the class B drug that they are obviously selling to school pupils.
Dangers of Cannabis for Young People
Cannabis use in young people is dangerous and can lead to all sorts of problems. Studies have shown that those who use cannabis before the age of sixteen and for prolonged periods can suffer from a number of problems. These can include memory loss, difficulty concentrating, impaired decision-making, and a decrease in IQ. If young people are taking cannabis on a regular basis, it can affect their performance in school as it often leads to absenteeism and lack of motivation. Those who are using cannabis are more likely to leave school with no qualifications, which can affect them in later life.
Signs of Cannabis Abuse
If you are a parent and are worried that your child may be using cannabis, there are a number of signs to look out for, including:
dry mouth
lack of interest in personal hygiene
bloodshot eyes
being moody and withdrawn.
Parents should also be on the lookout for signs such as torn cigarette packets, which individuals will use when rolling their spliffs. They will also use cigarette papers or even pipes and these are items that may be found in their bedrooms also. Another thing to look for is burnt or brown fingertips. However, remember that some signs of cannabis use could just be those of being a teenager, including being moody and withdrawn.
Signs of a Bigger Problem
When people become dependent on cannabis, the signs become more noticeable. Those with an addiction to cannabis may be anxious or paranoid. They may be irritable when they are not taking the drug and may have a lack of interest in anything but taking the substance. If you have noticed a huge change in your child's behaviour then it may be time to get help.
Where to Get Help
Tackling an addiction to cannabis is important as an addiction to this drug can lead to the addict progressing to harder drugs such as heroin and cocaine. It is vital that you get help for your child as soon as you suspect there is a problem. At Rehab Helper, our counsellors are trained to spot the signs of an addiction and will be able to tell if your child is suffering with one. We can then advise you on the best treatment options available, putting you in touch with a suitable rehabilitation centre.
Source:
http://www.dailymail.co.uk/news/article-2899896/School-drug-dealers-lightly-say-JPs-Magistrates-chief-warns-offenders-including-serial-burglars-rapists-getting-away-caution.html