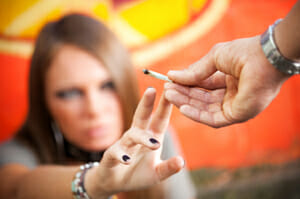 For some time, health officials and parents alike have been increasingly worried about the dangerous substances known as legal highs. Teenagers and young adults often take these believing them to be safe because they are labelled as 'legal'. However, these substances often contain harmful ingredients, and many have been linked to the deaths of a number of young people all over the UK.
The Government has now proposed introducing legislation that will ban all legal highs, and police will be able to prosecute those who manufacture or sell these drugs. Parents and campaigners have welcomed this news, but it would appear that many youngsters are still taking these dangerous substances.
Danger of Legal Highs
Addaction, the North Somerset charity, is warning people of how dangerous legal highs are and says it has received alerts from Public Health England that a rising number of people are using the legal high known as Spice.
Spice is a substance made to mimic the effects of marijuana, and it is recognised as a synthetic cannabinoid. These cannabinoids are often sold in oil form, which is then sprayed onto dried herbs before the user smokes it.
Spice, as with other legal highs, cannot be sold as 'fit for human consumption' and, as such, are often labelled as incense, plant food, or bath salts.
Addaction is warning of how dangerous legal highs are and the charity says that synthetic cannabinoids, in particular, are some of the most lethal forms of legal high. These substances can induce feelings of negativity, emptiness and can cause some people to self-harm.
According to Addaction's service manager, Gill Flanagan, there are no known hospitalisations or deaths in North Somerset due to Spice but the drug is circulating in the county, and rising numbers are using it. She said, "Symptoms can include dizziness, persistent nausea or vomiting, chest pains, difficulty breathing, fast or irregular heartbeat and convulsions and people may end up needing to go to hospital."
Flanagan went on to say that individuals need to be aware that Spice is not the same as cannabis, and its unpredictable side effects can be fatal. She was keen to point out that this drug is much stronger than cannabis and, therefore, much more dangerous.
Cause for Concern
One of the biggest reasons for concern with legal highs is that the ingredients change all the time. Because they are manufactured substances, ingredients are often substituted for another when one is banned. This means that a person taking a certain brand of legal high may not be getting the same substance the next time they take it. In addition, while they may not have suffered any adverse effects the first time they took a particular substance, there is no guarantee they will not react the next time because the ingredients may have changed.
Medical professionals are also concerned because they have no way of knowing what substances patients have taken. With the ever-changing ingredients, it can be extremely difficult to treat someone who has been admitted due to adverse side effects from a legal high.
Addictive Substances
Legal highs are also extremely addictive. Many teenagers are unaware of how addictive these can be until they are hooked, and the addiction begins to destroy their lives. Nevertheless, there is help available for those who are suffering because of legal high addiction. Rehab Helper is a free referral service working closely with addicts and their families. If you need help for addiction, contact us today for free, confidential advice and support.
Source:
http://www.bristolpost.co.uk/Synthetic-cannabis-lethal-legal-highs-warns/story-26913955-detail/story.html