Group Therapy Explained
Addiction treatment and group therapy go hand-in-hand. Through a social, supportive, and empathic environment, group therapy can help you to create a great and lasting recovery from your addiction.
However, if you're unfamiliar with group therapy and its role in helping to treat addiction, this article will help you to understand it so you can decide if it's right for you.
Understanding Group Therapy in addiction treatment
Not everyone knows what group therapy is, but it isn't complicated. It's a form of therapy where a therapist unites a group of people who are confronted with similar issues, and then creates a safe environment for each member to discuss their individual challenges born from their addiction.
Not only does this provide you with a therapeutic outlet, but it also helps foster connections with empathetic, like-minded people who can help to support and motivate you. This is why many people prefer the option of group therapy.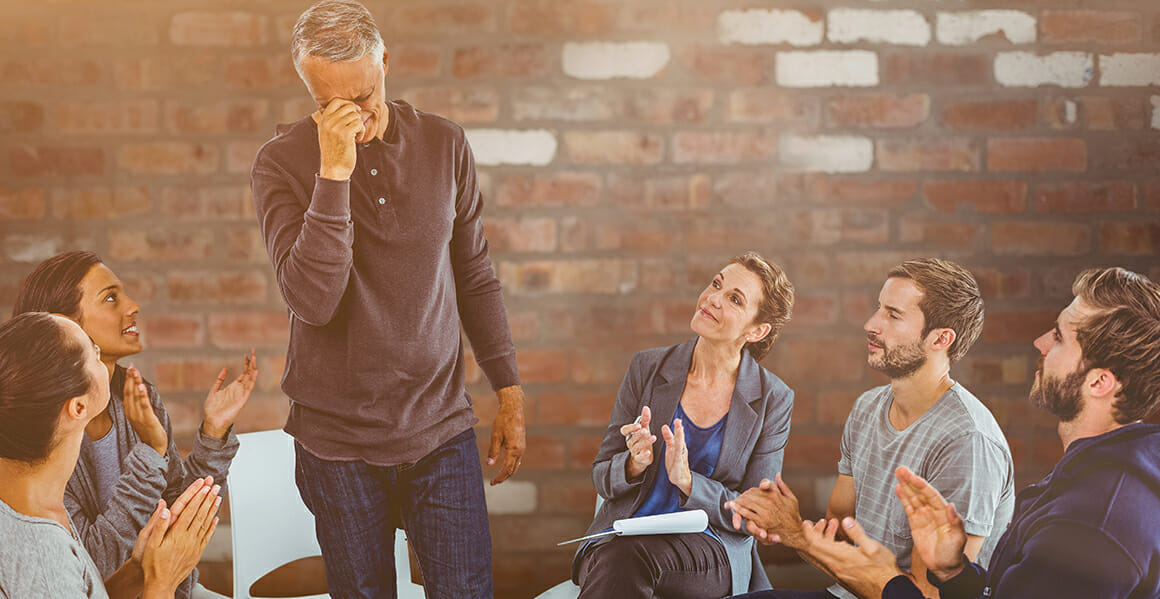 Why Group Therapy?
Although private therapy is a fine option, group therapy comes with a number of unique benefits:
First, group therapy makes you feel less alone. Each session is filled with members who are confronted by similar challenges as yourself. Not only do they support you, but you can also support them. This is something you are actively encouraged to do.
Second, group members offer practical advice, empathy, and support. As they have been through, or are facing similar challenges to yourself, they understand you better than anyone else. And in return, you've also been in their shoes.
Third, group therapy also helps to develop social-skills and foster friendships – an important, and incredibly life-skill and support system.
Fourth, group therapy is typically much more affordable than individual therapy, as the therapist can divide the cost of his or her time amongst multiple people.
Get Confidential Help Now
Call our admissions line 24 hours a day to get help.
When to go for Group Therapy
Knowing when to attend any therapy is difficult. But there are some signs that may indicate therapy as an option.
If you are finding yourself struggling with addiction more than usual, finding everyday life more challenging than normal, or generally feeling angry, upset, or not "you", then this could be a sign that therapy would be extremely beneficial for you, as you are confronted by daily obstacles to happiness and well-being.
Alongside this, if you are facing challenges related to your addiction and wish to meet people who are confronted with similar issues as yourself, then attending group therapy may be a great idea for you – as it will be filled with people who can support, empathise with, and understanding the exact challenges you're facing.
What happens during Group Therapy?
If you have never been to a group therapy session of any kind, it can help to know what typically happens. This may help with any nervousness or doubts you may feel when it comes to attending a group therapy session.
The first thing that will probably happen is that everyone will say their names so that everyone can get to know each other. Then, they might share why they are attending the group, or perhaps share something about their addiction.
There will be a number of different people there, and each person shares according to his or her discretion. There will also be a leader who provides structure and direction to the meeting. Anyone can ask a question and anyone can offer their own support and advice based on their experience. Importantly, nobody is made to feel their question or answer is incorrect, and everyone has a say.
Each centre will have its own style of group therapy, but this is what generally happens. With this in mind, it's important to find the right centre for you.
Choosing the right Group Therapy Centre
There are many ways to choose the right group therapy centre. The first thing you need to do is ask yourself what it is you are trying to achieve. Do you want to understand and manage the challenges of your addiction better? Do you want to manage anxiety better? Or do you want to feel more in charge of your life?
Whatever your goal is there are different group therapy centres which can help you achieve it. Reflective questions such as 'in what circumstances do I find myself most driven towards my addiction?' Can help you identify the things you may wish to work on.
What to expect from Group Therapy
If you've never been to a group therapy session, you might not know what to expect, but the process is very simple and welcoming.
You can expect to attend a structured therapy session filled with like-minded, friendly people who a facing similar challenges in their life. Led by the therapist, the group will offer support and guidance to one another to help each other address their personal challenges. Each session provides an open, nurturing environment that helps to foster altruism and friendships. Everyone's opinion is welcomed and everyone is made to feel safe.
The goal of this is to create a relationship driven, supportive environment that provides effective treatment to each member.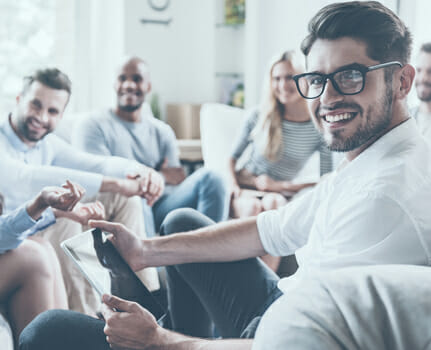 How effective is Group Therapy
Group therapy can be just as effective as individual therapy, but there are differences to understand.
Individual therapy dives into your personal history, insecurities, and fears, and explores how that motivates your present. This can be enormously helpful, but is also a very individual journey. Group therapy on the other hand is relationship driven. It has you speaking with and connecting with other people who are going through similar or even identical challenges to yourself.
Relationship driven therapy is effective because it helps to assure you that you are not alone, and that there are people around you who are both confronted with similar challenges whilst also willing to help and support you. This is something the renowned psychiatrist Dr. Irvin David Yalom referred to as the principle of universality. I.e. that what you struggle with is a universal struggle, rather than one you are alone with.
Through its group based, social nature, group therapy also helps to develop and nurture key life skills such as socialising and relationship building, as well as promoting an environment of altruism. This is due to the fact that people are not only encouraged to help and support you, but you are encouraged to share your valuable opinion and experience to help and support others in kind.
Combined, this can provide you with a sense of value, belonging and acceptance where you are equally as important to the group as the counsellor themselves.
The role of Counselling in Group Therapy
In group therapy, the counsellor has a very different role when compared to individual therapy. In a group therapy session, the counsellor helps to deal with any apprehension or anxiety you may be facing about attending and speaking your mind. This helps to put you at ease, make you feel safe, and assure you that your opinion is welcome and appreciated.
The counsellor also provides the group withstructure which helps guide the group therapy session so that it remains productive and supportive. Important rules such as confidentiality – a cornerstone of ethical psychotherapy – are made explicit by the counsellor, so that everyone feels they can share without embarrassment or shame.
Whereas in individual therapy the interaction is very much driven by yourself and the counsellor, in group therapy the counsellor acts to motivate each member of the group to positively interact and converse so that you, in a sense, drive the therapy alongside the rest of the group.
Facts and Statistics about Group Therapy
To help you to ground the idea of group therapy, here are some important facts and statistics to consider:
Studies suggest the average recipient of group treatment is better off than 72% of people who do not attend any sort of therapy.[1]
Group therapy has been repeatedly shown to be just as effective as individual therapy.[1]
Group therapy is becoming increasingly popular.[2]
Group therapy exceeds APA Div.12 [3] standards for efficacy substance use disorder, amongst many, many others.[2]
Paying for Group Therapy
If group therapy interests you, then the next step would be paying for a session.
Each group therapy session operates differently, so it is important to ask beforehand how payment is handled. Some will take cash on the day, others will like payment in advance. Group therapy is usually much cheaper than individual therapy.
You may be able to cover the cost of your group therapy on your insurance plan, but not all insurers provide this. Before you attend any group therapy session, contact your insurer to find out if you are covered.
Get Help today
If group therapy sounds like the right, supportive environment for you, then get help today!
Get Confidential Help Now
Call our admissions line 24 hours a day to get help.
Related FAQ's
Here are some of the most frequently asked questions:
Each group
therapy
works differently, so there is no definitive answer for how long they take. Some groups are time-limited, some last indefinitely. When you find a new group, you should ask as many questions as possible so you can find out what the timescale is. I.e. Can you leave and return? How long do sessions run for?
Many people continue to attend sessions long after they have recovered from their addiction, both to help them remain in control and to help others – so it is also down to the individual's preference.
You should look for an addiction
treatment
centre that is run by qualified professionals with the correct specialities and has a proven track record of success when it comes to addiction. It should also be within your budget and near where you live.
What happens in Group Therapy?
A typical group therapy session runs as follows:
Everyone attending gives their names to help everyone get to know each other, then perhaps shares some background as to why they are attending today or offers details related to their addiction.
A leader, usually the therapist or counsellor, facilitates and encourages a discussion between the people present at the meeting. The aim is to open up discussion about addiction and provide a platform for mutual support and healing. Everyone can ask questions and provide their opinion. Nobody is made to feel they are wrong and every opinion is encouraged.
Will my insurance cover my Group Therapy treatment for addiction?
Find alcohol and drug rehab clinics in your area
No matter where you live, there is a drug rehab center that can help you overcome your addiction. We'll help you find it.
Select a County